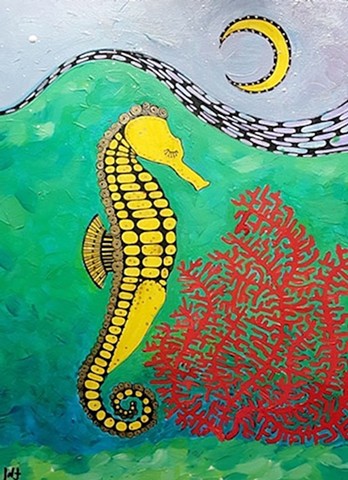 Tessa Molly Danica Helweg-Larsen was born in Vancouver in 1983, into a creative family of writers, poets, musicians and painters. She has been passionately painting since she was three years old. Her parents indulged her in a variety of art supplies throughout her childhood.
She has taken many art courses at Emily Carr University of Art and Design, as well as Vancouver Island School of Art. She has also learnt a lot through experience based self taught art. Tessa won the Sooke Fine Art Show's Award of Excellence in 2016. Her work is collected internationally, from Denmark to the Bahamas.
Bright colours shine through Tessa's paintings, to express her childlike wonder for nature. She is an environmentalist... which inspires her to paint beautiful flora and fauna, including endangered seahorses and unprotected areas, such as Fairy Creek. She also uses subtle methods to paint the spiritual connection between all life forms.
Tessa has worked in many mediums throughout the years, including: black and white hand drawings, silk screening, print making, multimedia works, found objects and acrylic painting.
Currently in the studio, Tessa loves to blend different methods together to form multimedia pieces! Therefore, she feels the most at home, when adding textured, glossy and colourful acrylic paint, extended with GAC 100, to black pen hand drawings.
Feel free to contact Tessa, if you are interested in hiring her for a commission. She is very honoured to weave a client's ideas into an image, uniquely for them. It is so beautiful to see their vision intermingle with her creativity to form a magical painting.